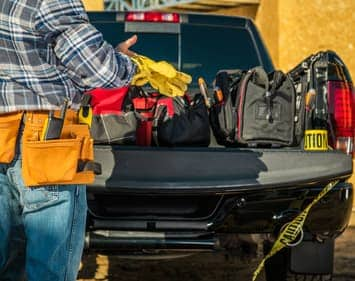 Ol' Blue. Bandito. Monster. Whatever you call your truck, make sure you can call it "working" for as long as you need it. Follow these maintenance tips to help make sure your truck keeps working as hard as you do!
Set a Schedule
It can be hard to prioritize truck maintenance when your truck is a tool of your business, but it's one of the most important steps toward keeping your truck working hard. Follow your manufacturer's suggested maintenance schedule to help extend the life of your truck. Make sure to change fluids, have filters replaced, have your battery serviced, and the brakes inspected on a regular basis.
Focus on the Road
Focusing on the road while driving can help ensure you're taking the smoothest route possible, which can help keep your truck running smoothly. Rough terrain, uneven roads, and potholes can wreak havoc on your truck, causing things like suspension issues, leaky fluids, tire and wheel damage, a shaky steering wheel, and more.
While gravel and potholes can't always be avoided, you can help maintain your truck's performance by steering through the most favorable path you can find.
Tire Care
To make sure your truck has a grip on the road, schedule routine wheel alignments and tire rotations, and always make sure your tire pressure meets your vehicle manufacturer's recommended PSI level.
While you're checking air pressure, make sure tread depth is appropriate and the wear is even across the face of the tread and the rotation of the tire. Additionally, it's important to have the right type of tires. For work trucks, it's hard to compete with Bridgestone Dueler® tires. Bridgestone Dueler tires are all-season tires offering long-lasting treadwear and year-round traction both on and off-road. Designed for crossovers, SUVs, and light trucks, Dueler tires are engineered to help you take on any terrain and stay in control.
No matter if your job site is rocky, paved, or muddy, Firestone Complete Auto Care can help you find the right tires for your truck.
Be Honest With Your Technicians
Firestone Complete Auto Care can match your service to your driving conditions to help your truck perform no matter what work you do. Be sure to share your driving conditions and driving habits during your next visit. Whether it means more frequent tire rotations, changing the grade of your oil, adjusting the frequency of your oil changes, or protecting your battery against heat damage, the changes in your truck maintenance plan can help keep your truck working as hard as you do.
All trucks do stuff, but not all trucks do truck stuff. If your truck needs some TLC before starting another work week, head to your nearest Firestone Complete Auto Care for a check-up or routine service today. Our expert technicians can help keep your truck running newer, longer, so it can stay working as hard as you do.